"We delight in the beauty of the butterfly, but rarely admit the changes it has gone through to achieve that beauty." (Maya Angelou)
Today a wonderful friend sent me a text with one of those sayings you find on the internet. It struck me deeply. The content bowled me over.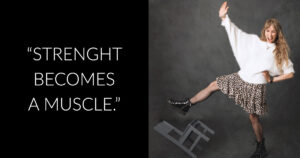 In summary, it talked about a strong woman, and kind no matter what, and how people watched her see if she would break if she would crumble. And the underlying tone was that she always rose with a smile on her face, and she tried her best each day, and it was only at night in the quiet time by herself that she would let her tears and frustrations flow. I believe that what hurts us, what challenges us, creates a platform that we rise to. Each time something affects us profoundly, and we genuinely move through it, it raises our vibration.
Our platform rises and rises. As I reflect on the passage my friend sent me, I realize my recovery time on situations, my ability to problem solve, and let go and let God have been strengthened. I am grateful for the path my life has taken. I am facing some big things, and I try and vision more of what I want to attract in my life. I focus on the good things, the small moments that bring me great joy.
Allowing to just be, to laugh, to be silly, and not judge me. Let your pain allow you to transform and let yourself soar. Nothing stays the same, and in time we can see the value of the challenges if we choose to.
How can you change your skin? Peels are tried and true. Lately, I have been so happy to see so many of my clients wanting to peel. There was a time if one of my clients saw me going through a peel, they would say, "I don't know if I can do that."
But like the butterfly's transformation, the process of a peel rejuvenates and gets rid of the outer layers that don't serve our skin. There are many peels available, so taking the time to investigate what is right for you could provide you with a relatively quick way to get the skin you have always desired. Let me guide you to what is possible! Even a tiny treatment can produce good results.
Peace & Blessings,
Michele Mosler Owner/Esthetician